Are All Types of Mold Dangerous?
It's amazing to note that there are over 100,000 different types of mold that we co-exist with, which makes it all the more understandable to realize that mold is everywhere and is always with us.
And although we shudder when we think about living with mold, many of its species are harmless and serve an important purpose in our environment.
Along with the harmless mold, there is also the toxic type, which can cause health issues, some of which are quite serious. When toxic mold spore levels are low, there is not much risk to your health, but when the levels increase you may experience such symptoms and illnesses as:
Headaches
Increased asthma symptoms
Infections
Respiratory problems
Rashes
The elderly, the very young, and people who already have pre-existing conditions such as auto-immune deficiencies or respiratory conditions are especially affected.
The 3 Major Mold Groups:
These mold groups are the most common and are the ones that will jeopardize your health.
Allergenic mold – Typically this type of mold will not cause severe illness, but rather cause scratchy throats, irritated eyes and nose and skin rashes.
Pathogenic mold – This mold can cause infections and more severe health issues especially for people who have HIV, Auto-Immune Disorders or who are currently having chemotherapy treatment.
Toxic mold – This type of mold actually produces toxins that are harmful. Luckily they are rare, because they have been linked to cancer and in rare cases, death.
Toxic Molds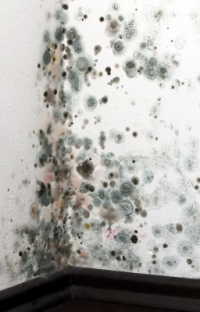 There are 2 types of toxic molds:
Stachybotrys, which is more commonly called black mold. (Just the name sounds ominous!) Because it is difficult to find, which gives it the opportunity to easily grow and reproduce, black mold is extremely dangerous. Unlike other molds whose spores float easily through the air, when black mold spores are damp, they become sticky making them harder to detect with air quality sampling. A lethal toxin, it has been known to be fatal to animals and cause extreme health conditions in human.
Memnoniella, like Stachybotrys, is a contaminant and also thrives on organic, wet materials such as fabrics, wood, and wallboard. Their toxicity and danger are also very similar.
If you are experiencing health issues that you can't explain, or you think you have toxic mold growing in your home, you should contact a certified mold inspector and remediator to assess your situation.
Because mold is so easily spread, and you're not trained to locate, recognize and remediate mold, it's probably not a good idea to tackle the job yourself