Is It a Good Idea to Paint Over Mold?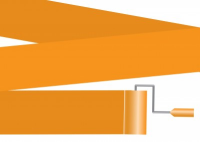 If you have mold growing on your walls, don't be tempted to "just paint over it" hoping that will get rid of the problem for you…it won't. What seems like a good idea is really an effort in futility.
Although there are paints designed to inhibit mold or mildew growth, they are not designed to stop it once it has begun.
Mold must be killed, you can't just cover it because before you know it, it will resurface right through that new coat of paint, cause it to peel and continue to grow and destroy.
Mold Survival
Like all living organisms, mold survival depends on moisture and food, and the food it focuses on is your home. Finding organic materials in your home, such as wood, fabrics, insulation or wallboard, it begins the process of decomposition, which is what it does best.
When mold is outside, it's decomposing characteristics can be very beneficial, but when it has the opportunity to reside in your home, it can be very destructive as it weakens your home's structure or destroys furnishings.
Other Dangers
Mold is not only dangerous to your home, but can also create health risks as its tiny spores circulate through the air and are inhaled, which can be especially bad for the elderly, the very young or people who already have respiratory problems. Some of the problems it can cause or increase are:
Problems breathing
Dizziness
Asthma
Headaches
Symptoms that resemble the flu
Even learning disabilities
Controlling Mold Growth
You can't get rid of all the organic materials in your home, but you can control the moisture that encourages mold to begin in the first place.
Open windows as often as possible to increase good airflow in your home.
Repair leaks of all kinds – it only takes about 24-48 hours for mold to begin growing, the sooner you repair your leaks the better.
If you have had water damage of any kind, especially to carpets, fabrics or upholstery, be sure to to not only get them dried and cleaned as soon as possible – don't forget the short period of time it takes mold to start.
Check your attic and crawl space to make sure they are well ventilated and have good airflow.
Always use exhaust fans in your kitchen, laundry room and bathrooms to vent excess moisture outside.
For your peace of mind and the safety of your health and home, if you think you have a mold problem, give us a call, and have it remediated properly.
Mold Solutions is a full service mold solutions provider for the Seattle Puget Sound area, Bellevue, Everett, or Tacoma