What are Mycotoxins?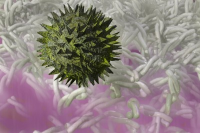 Just hearing the last part of the word – "toxin" – we know automatically that mycotoxins can't be good for us and they are something to stay away from.
A mycotoxin is a type of toxin that is produced by fungus, (another word we don't like), and is more commonly known as black mold. And just as you assume from its name…it is poisonous, in fact some of the most poisonous substances known.
Mycotoxins, like mold spores, travel through the air, and are too small to be seen without magnification. But unlike mold spores, they are not alive.
Mold spores typically enter a person's body when they breathe, but mycotoxins can enter not only through the air but can also enter through our eyes and sometimes they can be absorbed through the skin. If toxic mold has been growing on food, it can also be ingested. After a period of time it can end up in the blood stream.
The greatest majority of the mycotoxins we come into contact with either come from the air we breath or the food we eat.
Symptoms you may experience:
Headaches
Depression
Skin rash
Itching eyes
Tachycardia
Nausea
Shortness of breath
Cold and flu symptoms
Immune problems
Respiratory problems
These symptoms and so many others can go from mild to serious, but the good thing is that once the source of exposure to mycotoxins is removed, the symptoms will decrease. Nevertheless, some health problems caused by black mold may leave you more sensitive to exposure in the future and your immune system could be weakened.
When Black Mold Grows in the Home…
There is one common denominator between homes and buildings that have mold growth in them…moisture accumulation. A home without a moisture problem is a home without mold.
The excess moisture is usually caused by:
High humidity
Condensation
Plumbing leaks
Roof leaks
Flooding
Repeated spills
Poor ventilation
Dampness in the basement
Along with the moisture, mold spores need things that are readily available in our homes to begin growing and reproducing, such as warm air, organic materials, oxygen and a little time; only 24-48 hours to be exact.
If you think your home might have a mold problem, and in the fight to keep your home "mycotoxin free"…
 Contact us  – Mold isn't always easy to see, but we know what to look for, where to find it, and what to do when its found.