Is There Mold in your New Seattle Home?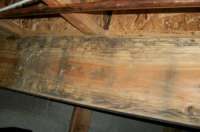 Unfortunately, the answer to that question is yes, you could have mold in your brand new house.
Most people think they are safe from mold because their home is new, but the fact of the matter is, mold can move into your house before you do.
It can begin to grow in the lumberyard and become part of your construction.
Lumberyard Mold
Mold appears on new lumber as dark, fluffy areas and is becoming quite an issue in the construction industry as people recognize the dangers of mold to their health.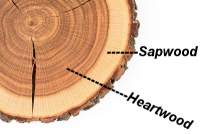 Trees that have been around for a while consist of two types of wood:
Sapwood – This is the first wood formed in a tree. Its job is to move and store water and nutrients which travels from the roots to the leaves.
Heartwood – Named because of it's position in the center of the tree, it is denser wood and forms after several years of growth as new sapwood forms around it. Due to the fact that the sapwood does all the work, heartwood is basically dead.
It is the sapwood that is at risk for mold growth. As the wood is harvested and milled into lumber, moisture and sugars from the sapwood become exposed and available to air-borne mold spores to take hold and begin growing.
Controlling Moisture in the Wood
Because all mold needs moisture in order to thrive, controlling the amount of moisture in the wood is the key to controlling mold, which is why it's important to keep the lumber as dry as possible.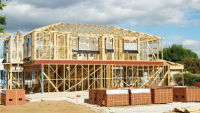 If you are in the process of building a new house…
Communicate with your builder and request that all lumber and wood products will be inspected before leaving the lumberyard.
Check your construction site frequently to make sure that the wood is stored off the ground and protected from moisture.
Make sure your new construction is checked for mold.
If you are already in your new home and you think you have mold…
Call us for a FREE mold assessment, we also inspect new construction and can warranty for 25 years!
Mold Solutions NW is a full service mold solutions provider for the Seattle Puget Sound area, Bellevue, Everett, and Tacoma.