Mold Facts That Everybody in Seattle Should Know About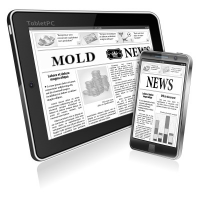 If you look throughout the internet and through various news articles, you can find a lot written about mold, how it grows and its adverse affect on people.
You can especially find a lot of information about it in conjunction with the victims of Hurricanes Sandy and Katrina.
Those people didn't have a chance at preventing mold from taking over their homes; because they had to be evacuated for extended periods of time, and because mold growth begins within 48-72 hours after water damage occurs, they were destined to have mold infestations.
It doesn't always take a natural disaster for mold to begin…
Here in the Seattle Washington area, yes we have our share of flooding, but we also have a lot of moisture in the air all the time; moisture without ventilation is a formula for mold growth.
Of course there are other ways for mold spores to find the moisture they need in order to begin growing: plumbing leaks, condensation, leaky roofs or or blocked rain gutters.
What you should know about mold:
Mold grows in colonies that give off a musty odor.
There is a certain amount of mold in every home or building…it can never be eliminated because it is a natural and necessary element of nature that enters your home everytime a door or window is opened or someone comes in.
Mold can become dormant, but will not go away on its own, it needs to be removed (remediated).
The presence of mold doesn't affect everyone, but for so many, mold exposure is from mild to extremely deadly to their health, especially, the very young, the elderly and those who already have respiratory problems.

Mold has been known to cause over 30 health problems.
It is the airborne spores, that when breathed in, cause illness.

Not only does mold like moisture, but it prefers to grow where there is no light.
Not all molds are dangerous – penicillin is actually derived from mold.
Mold can grow in the duct work of your heating system.
New homes are just as likely to have mold growth as old homes.
Mold growing on non-porous surfaces such as glass or ceramic tile is easily cleaned with detergent and water – but when mold is growing on walls, ceilings or wood you should probably hire a professional remediator.
Contact us if you think you have a mold problem – we know what to look for, where to find it, and what to do when its found.