How Does Mold Affect Pregnancy?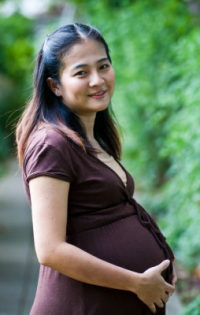 More and more people are coming to the understanding that exposure to mold can cause many health issues, especially for young children, the elderly and those who already have respiratory problems.
With that in mind, the question now is will mold negatively affect your pregnancy and your unborn child? Are you worried about exposure to mold and pregnancy complications?
Unfortunately, there has not been a great deal of research done on this topic. There has been animal research that has shown there are risks of birth defects if the animals have eaten moldy food, but nothing has been determined about airborne mold exposure.
Is It Just Coincidence?
There have been many women who, during the time of their pregnancies were exposed to mold for extended periods of time, either experienced miscarriage or had a child born with a birth defect. But science has not validated the idea that these situations were caused by or linked to mold exposure.
According to researchers, if a miscarriage happens, it's most likely not due to external, i.e. environmental factors. Up to 70% of first trimester miscarriages and 20% of second trimester miscarriages occur because of a genetic mistake – an irregularity in the fetus's own genetic structure, at least according to the March of Dimes.
Can Mold Make You Sick While Pregnant?
Yes, mold has the potential to make you sick regardless of your age, sex, and pre-existing conditions. Prolonged exposure to mold spores is known to cause long-term allergic responses with multiple different places where symptoms can occur: skin, respiratory pathways, lungs, eyes. Anything that obstructs your own intake of oxygen indirectly affects your baby if you're pregnant.
How does mold affect a baby while you're pregnant?
There is a 3-5% chance of having a baby with a birth defect in every pregnancy, across the whole population. Studies on mold impact during pregnancy are rare, but animal studies have shown that mold toxins have potential to cause birth defects when ingested. Currently, however, there is no proven risk to a pregnancy from exposure to airborne mold.
Naturally, not much direct research can be done on mold exposure and pregnancy since very few women are willing to risk their own and the health of their child to participate in such studies, and here's why (quoted from The Lancet):
The thalidomide tragedy in the late 1950s and early 1960s led to the FDA's expansion of the category of exclusion from that of pregnant women to "women of childbearing potential". It was not until 1993 that the FDA reversed this policy on grounds that the exclusion of the majority of women from most clinical trials had resulted in a lack of scientific data on the risks and benefits to women of drugs that had been studied exclusively in men.
What we do know…
We do know how mold can affect those of us who have already been born.
We know that mold is a fungus and is around us all the time.
We know that it's good for the outside environment, but not for us.
We know that it grows by sending out tiny spores into the air we breathe.
We know that continuous exposure to these spores can cause health problems:

Increased asthma attacks
Eye irritations
Allergic reactions
Coughing
Sneezing
Wheezing
Respiratory problems

We know that mold should be removed as soon as possible
Cleaning Mold While Pregnant – Is It Safe?
If you do notice mold growth in your home, our advice is not to clean it yourself. Cleaning disturbs the mold and may release spores into the air, causing health problems and spreading mold throughout the room and beyond.
Our Conclusion:
It may be a coincidence, but we really don't know. Even though there is no research that proves mold exposure is harmful to your unborn child, why take chances? We do know that compromised immune systems lead to complications and an increase in various risk factors, so, indirectly mold has the potential to have a plethora of harmful effects. Don't wait for scientific studies to be over – better safe than sorry!
Mold And Pregnancy – Don't Risk It, Protect Yourself!
Have the mold remediated by Seattle's top mold removal experts!
Call us today and schedule an inspection and testing run and we'll check if you qualify for a FREE inspection.