Indoor Air Pollution Facts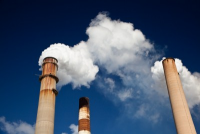 We're all aware of the many air pollutants we can come into contact with when we are outdoors: smog, smoke, and carbon dioxide to name a few.
We're also aware of the respiratory health issues they can cause us. So as a society we do everything we can to keep the air we breath as clean as possible.
Are we as cautious in our homes? Are we aware of the indoor air pollutants that we encounter every day?
Time Spent Indoors
"As Americans, we spend approximately 90% of our time indoors" – Aileen Gagney, Program Manager for Environmental and Lung Health for the WA American Lung Association.
The air we breathe every day, all day and all night is basically trapped inside our homes, and according to Gagney, it can be even more polluted than the outdoor air. Haven't you ever noticed how good it feels to open a window and breathe in some fresh air?
Poor Air Quality in our Home Can be Caused by:
Second hand smoke
Household cleaning products: Bleach, aerosol spray cleaners, air fresheners
Paints
Formaldehyde
Animal dander
Dust mites
Mold
Mold is probably one of the most insidious of all these pollutants, because it's almost impossible to entirely eliminate its presence in our home. Mold spores are always in the air outdoors, and every time we open a window or a door, they float inside.
When the spores find a cool, poorly ventilated, moist, organic area, they can begin to grow and reproduce more spores which begin to spread through the air…and the cycle continues.
Breathing the floating spores into our lungs is what causes respiratory problems in so many people. Those who have to be especially careful  to avoid mold are:
The very young
The very old
People with asthma
People who already have respiratory problems
Although you can't totally eliminate mold in your home, there are things you can do to minimize its growth.
Keep the humidity in your home at about 40-60% using dehumidifiers or air conditioners.
Always run your kitchen fans when cooking or running the dishwasher.
Always run your bathroom fans when bathing or showering.
Repair leaks immediately.
Don't use carpeting in the bathroom.
Be aware of musty or stale smells that could indicate mold growth.
If you think you have mold growing in your home, don't ignore it, call a certified mold inspector to assess the problem.
Mold Solutions is a full service mold solutions provider, who can remove the threats to your health and safety caused by mold.
Don't wait until you have mold associated health issues, if your nose and your eyes have alerted you to a possible mold problem.