Dry Water Damage Quick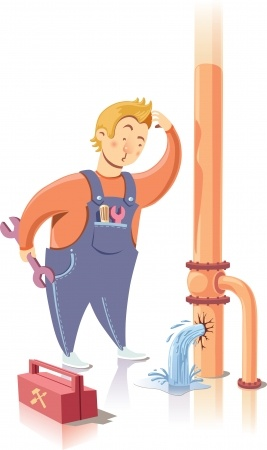 When most people think of water damage, the first thing that pops into their mind is damage from floods. Floods are devastating, and happen only periodically…but there is water damage that happens frequently, is more common place than floods and can cause a great deal of damage.
Leaking pipes
Recurring condensation
Frozen pipes
Leaking roofs
Overflowing toilets, sinks or tubs
Leaking shower stalls
Whether the water damage comes from one source or another really doesn't matter, unless it is dried out completely and quickly it can result in damaged carpets, flooring and furniture, all of which can lead to costly repair bills.
Another damaging side effect of water damage…
Mold growth is another by-product of water damage that hasn't been dried out soon enough or thoroughly enough. Not only will mold damage your possessions, but it can damage your health as well, causing or increasing respiratory problems, headaches and other illness.
I keep saying how important it is to dry things out as soon as possible because mold can begin to grow in a very short period of time, between 24-48 hours. And once it starts, it can spread rapidly.
Prevent Mold
The best way to prevent mold is to go to the root of the problem, find out where the water damage is coming from and eliminate the source and get things dry.
If the damage is larger than you can handle, you should contact professionals who will come in and take care of things properly.
One family had just moved into their brand new home. They had installed a Jacuzzi tub in the master bedroom and decided to let their children be the first to use it. With their swimming suits on, the water heated, they were ready to take the "plunge". Just as they were climbing in, they heard a loud "pop" and the water level began going down. Some of the plumbing had broken, and 500 gallons of water emptied out onto the master bedroom floor, then down through the ceiling into the kitchen and from the kitchen if flowed into the crawl space.
The homeowner quickly called a water damage restoration company who told him to immediately rip up all the carpeting and carpet pad and toss it outside. Several fans were set up inside the home to help with the drying out process, carpets were cleaned, dried and stretched and insulation from the crawl space had to be replaced.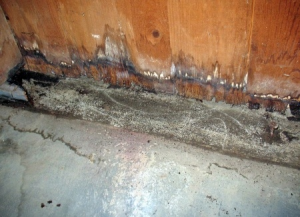 Although the family couldn't avoid all the damage, they were able to avoid the beginning of mold growth and the damage it would have caused.
Once water damaged is discovered, acting quickly can help you prevent the onset of even more extensive damage.
Contact us if you think you have a mold problem – we know what to look for, where to find it, and what to do when its found.