How do you remove mold in the bathroom?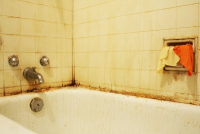 Mold has plagued people down through the ages, you can even read about how to properly handle mold in the Book of Leviticus in the Bible.
Because, unlike plants, mold (which is a fungus) does not make its own food, it depends on organic materials to sustain itself and grow. It's sole purpose is to help dead bugs, trees, and leaves to decompose. Can you imagine a world where mold isn't doing its job…it would be covered with all kinds of dead stuff that hasn't been broken down and returned to its natural state in the environment.
So as long as mold is outside, doing what it's intended to do, everything is fine. But the minute mold spores enter our homes, and it does every time a window or door is opened, it begins to grow and destroy the things we don't want it to, like our walls, ceilings, draperies, paint, wallpaper, carpets, and because it can be toxic, our health.
Mold in the Bathroom
One of the easiest places for mold to get started is in your bathroom where it will often find excess humidity, dampness and plenty of organic material to feed on.
If mold needs organic material to feed on, why do you find it growing on non organics like bathroom tile, windows or mirrors? Because, if a non porous surface is not cleaned regularly, oils can build up on them, which mold can feed off of.
Surfaces such as these can be easily cleaned with disinfectants, and if your bathroom has a tendency for mold growth, frequent cleaning is a must. If it's not cleaned off immediately, because it grows so fast, mold can move to walls, ceilings and flooring where real damage will begin.
Tips to control mold in your bathroom:
Decrease humidity by always using ventilation when showering or bathing.

If your bathroom doesn't have an exhaust fan…get one installed, and at the very least, open windows.

Clean surfaces on a regular basis with a product that will kill the mold.
Do not have carpet installed in your bathroom. Several years ago it was a trend to carpet your bathroom, but obviously with all the wetness and moisture in the air, it's not such a good idea.
If you find mold growing on the walls and ceilings in your bathroom, there is probably a deeper problem that needs to be addressed, and this type of mold growth will need stronger measures than a disinfectant to remove it permanently.
Contact us if you think you have a mold problem – we know what to look for, where to find it, and what to do when its found.