Our residential property mold remediation services are safe and effective – guaranteed!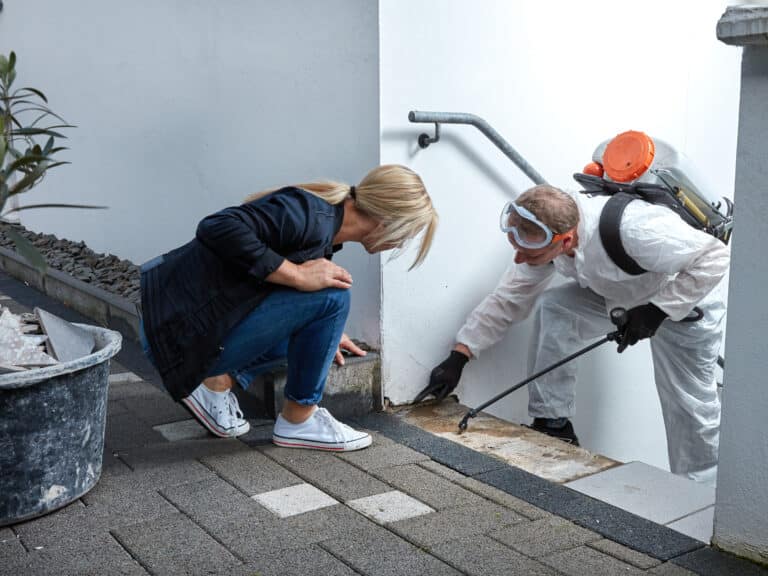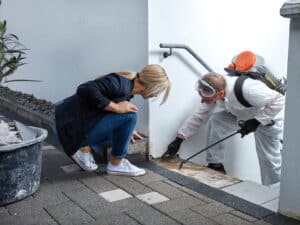 Mold Solutions NW has the right options for you if you are in need of residential property mold remediation services. Long-term exposure to mold can be a danger to your health regardless of where the mold originates from, but residential homes are particularly concerning because pets and children can also become sick easily. Mold can lurk in areas of a home where people seldom go or think to check. This allows it to grow and spread, a potentially dangerous situation for the residents. In some cases, it may not be obvious at all where the mold is coming from, yet it will still impact you and your family before anyone even knows the home contains mold growth.
But mold in a residential building can cause even more problems than just illness. Mold can not only make people and animals sick and activate allergies, but also destroy the structural materials it is growing on. From the roof, to the walls, to the very foundation of your home, mold could be eating away at the structural integrity of the building. It can weaken the surfaces it grows on, leading to serious structural concerns if the mold has been able to spread extensive.
Mold Solutions NW is a team of highly trained professionals who care about protecting your home and your family from dangerous mold. We are knowledgeable experts who are equipped to handle your mold and mildew troubles, no matter how much or how little there may be. No problem is too great or small for us to tackle. Our inspection services help us guide you through the steps of the remediation process in a way that suits your needs without breaking the bank. The solutions we suggest come backed by our desire to protect you, your family and your home. Sometimes, we are pleased to inform residents that they don't have any mold issues and should instead look at preventative services that can keep their home mold free. Other times, unfortunately, we find extensive growth that needs immediate remediation. Whatever the case may be, we'll inform you of everything that we find and what options we believe would suit your situation best. You get to make the final decision and call the shots.
Whether mold is found in your home or at your workplace, it is a problem that needs to be dealt with swiftly. Don't wait until the problem has gone from a minor irritation to a major structural issue. We're here to help you combat mold and mildew and protect your property from the dangers and damages that come along with them any time. Mold Solutions NW has the answer for your residential property mold remediation needs, no matter how small or large the problem. We can also help take a look at your property and offer advice for dealing with mold. Call us at 425-888-3332 to schedule an appointment today or use the contact form above to reach out. We're eager to hear from you and help you with your mold remediation needs.
What Do Residential Property Mold Remediation Services Include?
When we perform our residential property mold remediation services we have a standardized process that we follow. First, we inspect every facet of the home and property to determine which areas may be problematic. We take pride in the thoroughness of this inspection. As fellow residents of the Pacific Northwest, we understand the challenges that come with the climate here. Mold can hide not just in homes, but also all around the property. And mold that starts outdoors on wet ground can find its way inside the house via tiny cracks you may not spot. Outdoor mold is often overlooked, but in this area it is crucial to inspect the entire property and not just the interior of the home.
After this thorough inspection, we contain any contaminated areas we discover with specialized plastic sheeting and HEPA air scrubbers. These added precautions ensure mold doesn't get a chance to spread. Mold spores are prone to floating about once disturbed, so it's important to us that we isolate and contain the mold as much as possible. Even as we work our employees will wear full body gear to protect themselves and so they can't accidentally cause mold to spread. This is a critical piece of our approach. Mold is more than just meets the eye, after all, and the spores that may not be visible to the naked eye can be incredibly dangerous due to their propensity to sneak off and take root elsewhere. Left unchecked, the spores can cause new mold growth. The affected area might seem like it was completely cleaned, but if spores escape the fix might be merely temporary.
Mold not only threatens the health of residents and structure of the home. It also leaves difficult stains on any surface where it takes old. Only after we are sure the mold is fully contained and cannot escape to contaminate other parts of the residence, we'll apply our specialized MMR product to eradicate mildew and mold stains. MMR can get deep into the wood or other surface type where mold has grown to draw out stains that might otherwise prove permanent. We work to eliminate all traces of mold, though, both on the surface and deeper down. Your home will not only be free of mold, but it will go back to looking pristine and undamaged. Don't let mold permanently mar your residence.
We continue to take safety and containment seriously throughout this process, as well. During the application of MMR the moisture of the product will prevent dry spores from floating away to find a new place to grow. However, even if some spores manage to escape, our air scrubbers will catch and filter them out, eliminating their potential to grow elsewhere. These air filters are a crucial backup to all our other contamination efforts. Along with things like plastic sheeting and protective gear, they help lock down mold so it can't find new corners to grow in.
After applying the MMR, we then remove any materials or items that were infected or damaged by the mold. Depending on the severity of the mold problem, this part of the process could result in entire walls coming down. It is important to properly discard of and destroy any materials too damaged to be restored, however. We then do a thorough cleaning of the job site and use HEPA vacuums to collect minor particles that are not easily seen. We ensure any dirt, dust or debris are swept up and that the entire area where we conducted the remediation is clean and safe.
Once this cleanup has been performed we will treat the area with our very own anti-microbial preventative product. This material is extremely resistant to mold and mildew, while remaining friendly for the environment. We love the Pacific Northwest as much as you do and are therefore committed to using EPA-registered and certified products that won't cause damage to you, your family or the environment. This anti-microbial is water-based and non-toxic, so you don't need to worry about harsh chemicals getting used in your home. It won't cause leaching or VOC emissions, or other forms of irritation that can arise from less safe products and chemicals.
Upon completion of the application of the anti-microbial, we perform a final inspection to ensure that it was properly applied to the problem area. We look not just for signs that the immediate mold remediation was successful, but also that future issues have been addressed to the extent possible. We want to leave you feeling confident that your mold problems are over once and for all. Mold that comes right back after a remediation is not truly eliminated and the home and residents are still in danger. Our standard is higher – we reinspect the home to be absolutely certain any and all mold growth issues have been thoroughly addressed. This process is a tried and true method that has proven effective since 2007. Our experienced inspectors don't let anything slip by before they declare the impacted area free of mold for the long term.
Why Get Residential Property Mold Remediation?
It can be unpleasant thinking about mold growing in your home, but it's important not to avoid the issue and let it get worse. You might not even believe that you have a mold problem until you can see it for yourself. But mold is not only dangerous – it is also disgusting and tends to grow in the sorts of places residents easily overlook or rarely notice. It's frightening how easy it is for mold to slip by undetected in people's homes, a silent, hidden threat that hasn't even crossed their minds yet. Therefore, we recommend at least getting a home inspected. Our experts know where to look and can find even the sneakiest mold. We can stop the problem before it even starts or can cause significant and potentially expensive damage.
Mold loves to find the low traffic areas of your home and take root there where it can grow without being bothered or exposed. Often by the time you see mold growth through your walls or floor there's a lot more growing unnoticed in the places you can't see. This growth, if left unchecked, can start to destroy the materials that make up your home. By the time you see mold on your floor, for example, it has already spread extensively beneath that floor, perhaps even among the home's foundations. Wood is an easy target for mold, allowing it to grow in places like floors and walls that can put the home's stability at risk. Should your home mold problem be left unchecked to the point that mold gets into the foundations then you'll be paying a high price to keep your house standing. By catching mold early and removing it you can save yourself a number of headaches and the over the top costs. That's why even home owners who don't see mold or think they have issues should get inspected. It is easier and cheaper to stop mold in its tracks early on. Don't incur higher costs later on by overlooking mold, especially in the Pacific Northwest where the climate is conducive to its growth and spread.
Mold Solutions NW can treat any mold issue or even prevent mold from happening in the first place. We're even able to come and provide our mold prevention services right from the beginning of your new home's creation. During the construction phase of a new home is one of the best times for mold assessment and inspection. It is even possible to take measures during construction that will help prevent mold from growing after the house is completed. A home that is being built is necessarily exposed to the elements and our beautiful Seattle region is infamous for its rain and wet weather. The conditions are unfortunately right for mold to creep in before a home is even completed and being lived in. Mold Solutions NW can help you feel sure that you brand new home will not have mold in the future by conducting remediation services during the construction phase. Don't overlook this important step when contemplating your new home!
We are so sure of our expertise and services that we will guarantee that our products will last you for years to come. To prove our confidence we currently offer a 10-year warranty for our prevention services. They're highly affordable, highly effective, and environmentally friendly. Backed by this promise, our prevention services can allow you to have the ultimate peace of mind when it comes to mold in your home. Why worry when you can simply enjoy your home and know it is forever mold free?
If you have mold, don't wait. Call Mold Solutions NW today at 425-888-3332 or use the contact form above to reach out to us. We can't wait to hear from you and assist you with all your residential mold remediation needs.
Mold Solutions NW – We always strive to do the right thing.
Call

425-888-3332

to Schedule an Appointment