What is the Best Way to Remove Mold?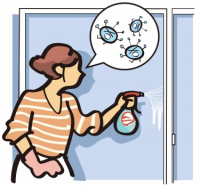 Over the years, and especially recently, there have been many products and "home remedies" developed to remove mold. But the truth is, unless the mold you want to get rid of is growing on food in the refrigerator or on a non-porous surface such as tile or glass, removing mold is a more serious issue than a "home remedy" can fix.
The mold that homeowners and business owners need to be concerned with is the type of mold that feeds on organic materials and moist warm air. It usually begins with water damage to your home or business from:
Natural disasters such as Hurricanes Sandy or Katrina

But they don't have to be large disasters, they can occur on a smaller scale, such as one company that was located in Redmond, WA, had their office flooded with only about 2″ of water when a storm drain backed up. By the time the water was finally removed, and the carpets dried ( about 2 days) mold had begun growing on the walls around the baseboards in several places.

Sewage backup
Leaks in the plumbing or from the roofs
Too much humidity…homes or other buildings that are not well ventilated and allow moisture to build up
An overflowing bathtub, shower or sink that hasn't been dried immediately or thoroughly
Dark, damp crawl spaces or basements
Once this type of mold growth begins, the best and safest way to remove it is to have it professionally done by trained, certified mold remediators.
Why hire a professional?
To begin with, a trained mold remediator understands the serious health issues and damaging effect on your home mold can have if left either untreated or treated improperly.
They know how to locate mold that may be hiding in places you might not think to look.
They also locate the source of the excess moisture that has encouraged the growth to begin with.

It is a waste of time to remediate the mold, if the problem that has caused it is not addressed.

They understand the importance of totally isolating the contaminated area so that as they work, mold will not travel to other areas and begin growing there.
When possible, the affected areas will be treated with a professional strength mold remover. But if the mold can't be remediated in that way, the contaminated materials will be removed, bagged and sealed and discarded.

In the example of the business above, the damaged wallboard had to be cut out and replaced.

Using a HEPA vacuum, the entire job site will be cleaned from all debris.
The affected area is then treated with an anti-microbial that is non-toxic and non-VOC emitting to prevent the mold from returning.
A final inspection is completed to make sure all signs of mold are gone and that all materials used in remediation are disposed of.
These are the processes that Mold Solutions NW use to guarantee your safety and good health. We offer a 10 year warranty for your peace of mind.